About LeBlanc & Associates
Our headquarters is located in Houma, Louisiana. We are a locally operated company engaged in the marine, commercial and offshore markets consisting of air conditioning and refrigeration, sheet metal, and galley equipment divisions. We have been meeting the needs of the mentioned markets in excess of 30 years.
History
We began in 1986 as a small family owned refrigeration service company operating in the commercial and marine industries. With an initial staff of three individuals, the company has experienced significant growth to what has become a very successful, multi-divisional operation. Understanding that rapid growth can be draining on cash flows, the owners of LeBlanc & Associates carefully implemented a growth strategy, which allowed the company to grow evenly over the years. This allowed the company time to handle the success of its growth without causing unnecessary burdens on personnel or financial obligations.
In 1989, LeBlanc & Associates incorporated with Mervyn LeBlanc assuming the position of president, and Laurie LeBlanc the position of secretary/treasurer. With their guidance and focus, the company has grown into a multi-million dollar a year operation with the headquarters in Houma, Louisiana, and satellite locations in Bayou LaBatre, Alabama and Panama City, Florida.
In 2014, LeBlanc & Associates joined the Heinen & Hopman group, a global HVAC/R network consisting of 25+ companies based in The Netherlands. Our new partnership grants us an abundance of resources and support, and with a network of over 300 engineers, we have expanded our product range with more innovative and technological designs..
Locations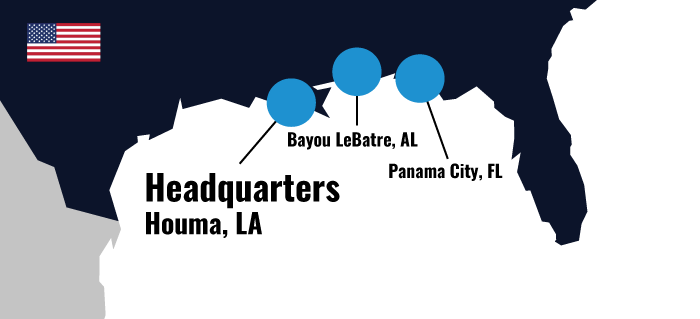 We operate out of 3 strategic locations along gulf Coast:
Houma, LA
Bayou LaBatre, AL
Panama City, FL
Our manufacturing facility boosts over 40,000ft². Our facility includes 9,000ft² of office space, 8,900ft² of warehouse space, a 1,000ft² training center and 22,000ft² of fabrication space.
We have approximately 5 acres of land and are able to easily load, unload and store large pieces of equipment. Equipment specifications and capacities are shown in our fabrication equipment section.